Free the Slaves has created one of the world's largest video libraries on modern slavery. Our films empower survivors and activists to tell their stories in their own words.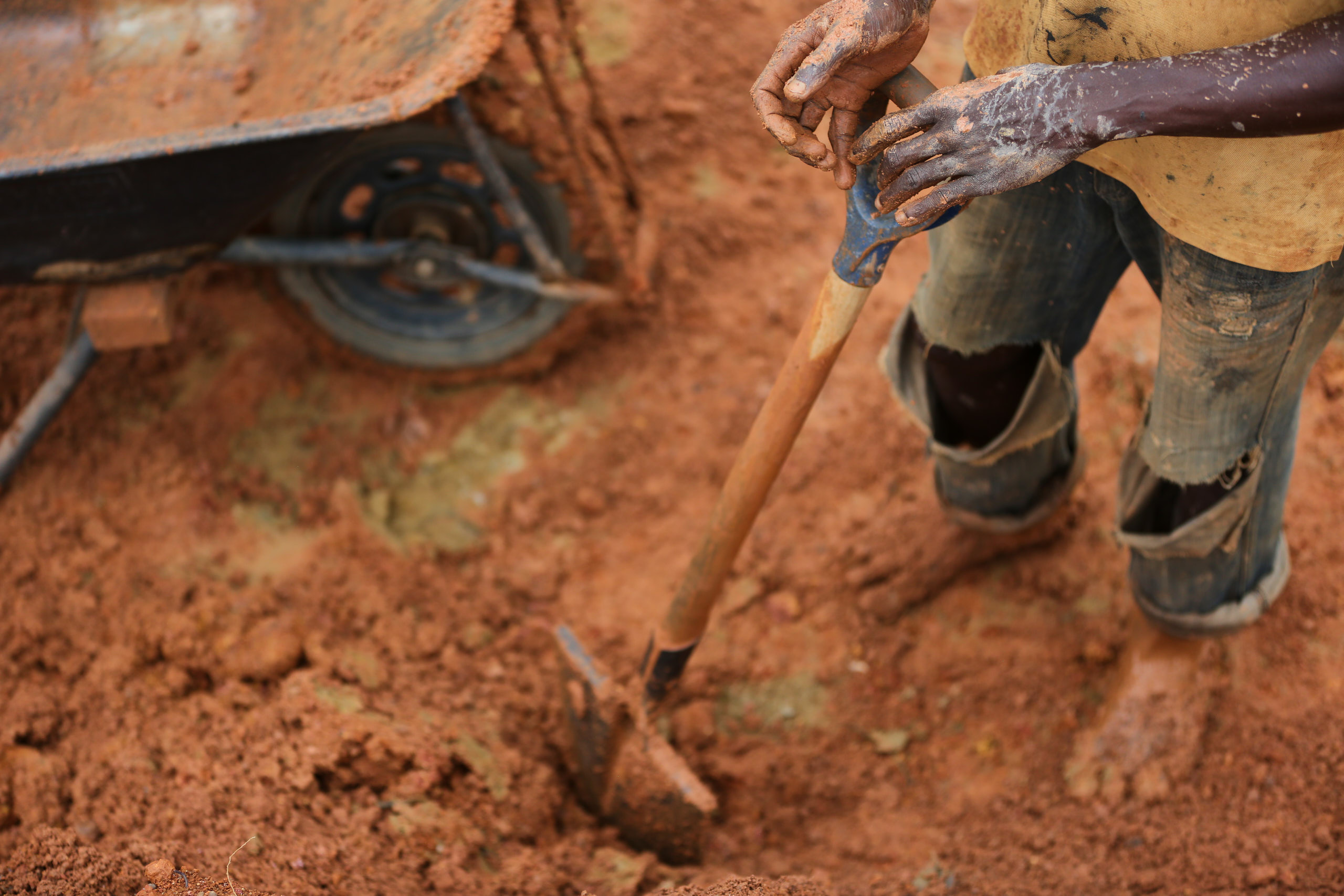 Are You Financing Modern Slavery and Racial Inequality?
The things we buy are decisions we make about the world we want. Everyday purchases can unknowingly fuel modern slavery and the racial inequality it creates. Our friends at 522 Productions have volunteered their time to produce a vivid video reminder of the impact that the globalized economy has on vulnerable individuals from disadvantaged groups.
Face to Face with Slavery – The Movie
Filmmakers journey to the front lines to uncover inhuman brutality of slavery and bear witness to the inspiring grassroots movement that's bringing thousands from slavery to freedom.
Free the Slaves Formula for Freedom
Our innovative four-step strategy frees entire communities by applying principles of social science, economics, community organizing, rights education and effective policing.
What Does Slavery Look Like Today?
Modern slavery looks different than the sailing ships and shackles we learned about in history class. People are now trapped by forces less visible but just as powerful. (With French subtitles
here
.)
Haiti's Model Communities Fight Restavek Child Slavery
Haiti has one of the world's highest concentrations of children laboring as household servants. Our innovative program helps families take a stand against child slavery. (In Creole 
here
.)
How to Combat Modern Slavery: Kevin Bales at TED
Free the Slaves co-founder Kevin Bales outlines how slavery can be conquered if governments, businesses, consumers, religions, and international institutions all work together.
Jason Mraz: The Journey of The Freedom Song
Grammy-winning musician Jason Mraz visited Free the Slaves projects in Africa. He came face-to-face with child slavery survivors who sang a song of freedom with him.
The Cookie Raid: Community Organizing Frees Slaves from Bakery
Traffickers don't care about the basic human needs of people they enslave. That's why your help in freeing the enslaved is so vital. We tear down barriers that separate the enslaved from dignified, fulfilling lives.
Photos That Bear Witness to Modern Slavery: Lisa Kristine at TED
Through her lens, Lisa Kristine captures the most horrible abuses imaginable and the most astonishing triumphs of the human spirit while visiting the front lines with Free the Slaves.
India Art Project: Child Slavery Survivors Paint Freedom
Carrying canvasses and brushes—and a belief that art can free the mind—artist Ben Swatez visits Free the Slaves front-line work in Bahari, India, to teach children new skills.
Children taken, families frantic for help. The Free the Slaves model of educating and empowering villagers about their rights led to freedom for 24 teens. See the rescue.
Slavery still exists. There are 40 million people enslaved today, in all sorts of industries, making products we buy every day. Don't buy into slavery. Support our work to free everyone, everywhere.
Slavery is Alive (Part One)
No one knows the horrific mistreatment that slaves endure than slavery survivors themselves. Hear their stories from Brazil, Cambodia, Canada, Nepal, India, Congo, Georgia and Pakistan.
Slavery is Alive (Part Two)
Trafficking survivors around the globe describe the inhumanity of modern slavery. Forced to work, kept in place by violence, unable to escape — millions endure horrific physical and psychological abuse.
Six Amazing Stories of People Taking Action
Freedom is a basic right, and thousands have chosen to spread freedom to those in slavery by donating to Free the Slaves. These six inspiring supporters exemplify this spirit of giving.
Former Trafficker Helps End Child Slavery in Ghana
Predatory traffickers look for vulnerable children to enslave in the brutal fishing industry. But in one village, a former trafficker has teamed-up with a former child slave to end the exploitation.
Why I Free Slaves – Psychologist Sheila Siegel
"I free slaves because I can't not," says psychologist Sheila Siegel. "In my life, I have always been an activist. I know it touched a place in my heart where I have an ache to do this."
Why I Free Slaves – Teacher Robert Birk
"I free slaves because freedom is so important. I don't have to give much. But there are people who through that support can really change lives and change the world."
Why I Free Slaves – Investor Margaret Graff
"I free slaves because it is a moral imperative. Once you understand that slavery exists, once you understand that you can help, how can you not become part of the solution?"
Why I Free Slaves – Author James Hannaham
"Fighting slavery is important to me because I would like to live a life knowing that I am not contributing to the abuse or torture of other people," says author James Hannaham.
Why I Free Slaves – Rabbi Debra Orenstein
"I free slaves because I am a Jew and it is my spiritual commandment. How could we as a civilization stand for these kinds of atrocities to still go on? Failing to speak up is not acceptable."
Why I Free Slaves – Actress Virginia Williams
"I free slaves because we're all created equal. People ask why I've gotten involved with Free the Slaves. I can't think of anything that has higher purpose than putting value on life."
Face to Face with Slavery: What Freedom Looks Like
Sakdouri residents once lived in fear, beaten as slaves at brick furnace. The slave holder threatened to throw them into the fire. But after a remarkable rescue, they are now free. And it shows.
Face to Face with Slavery: Children of the Mines
Children endure inhuman conditions at gold mines in Ghana. FTS inspired one mother to take action to get her son out of danger. See how we did it in this inspiring story from the front lines.
Face to Face with Slavery: Stopping The Traffic in Nepal
Courageous women in Nepal describe their enslavement while migrating for work, and how they now help others from falling prey by teaching them the tricks used by human traffickers.
Face to Face with Slavery: The Economics of Freedom
Economic freedom is vital for trafficking survivors. That's why we provide skills training and microenterprise support for survivors and their families. See this strategy transform lives in the Congo.
Face to Face with Slavery: Building Freedom Brick by Brick
It's vital that survivors plan how to earn a living after rescue. In the India village of Kukdaha, rescued slaves decided that they would do in freedom exactly what they did in slavery: make bricks.
Face to Face with Slavery: Child Rights in Mining
Ghana's gold mines bring prosperity and pain. They're a huge part of the economy. But for children, mining can bring misery and death. We educate parents how to end to child mining.
Face to Face with Slavery: On the Front Lines in Nepal
Activists from Free the Slaves and our partner organizations discuss why they work tirelessly to safeguard fellow Nepalis from traffickers. Produced shortly before the 2015 earthquake.
Face to Face with Slavery: On the Front Lines in India
Free the Slaves staffers, and activists at our front-line partners, are deeply motivated to bring freedom, equality and justice to victims and the vulnerable. It is difficult but joyfull work.
Face to Face with Slavery: Building Grassroots Partners
Free the Slaves works globally. Our grassroots partners work locally. See the two approaches work hand-in-hand to fight child slavery in gold mining regions of Ghana.
Face to Face with Slavery: Movie Night in the Congo
Free the Slaves creates a dramatic movie and mobile cinema unit to build awareness about slavery in remote villages and to inspire community action to overcome it.
Becoming a Slavery-Free Business: Removing Slavery from Supply Chains
There's slavery in every shopping mall in America. From cocoa, coffee, and clothing to cars, computers, and cell phones—many products are tainted by slavery. Businesses can change that.
Partners in Action Fight Slavery in Brazil: CPT & Reporter Brasil
Double-teaming slavery in Brazil: CPT operates in rural areas, fueled by a profound belief in God. Reporter Brasil is urban and believes investigative journalism can transform the world.
James Kofi Annan: Fighting Child Fishing Slavery in Ghana
With a boat, shelter, and school, James does for others what he wished someone had done for him when he was a fishing slave in Ghana. He helps enslaved kids restart their lives.
Building Bridges to Freedom
Freeing slaves is about community. It's about building bridges that connect those who are vulnerable to trafficking with those who live with the blessing of liberty and can provide help.
Free the Slaves Country Directors: Passionate about Freedom
They risk their safety every day. Why? One word: freedom. In this heartfelt video, our staffers reveal what motivates them on the front lines of slavery.
Fighting Domestic Servitude Slavery in India
The group SMS finds women who've vanished, exposes traffickers, advocates for regulation of labor brokers, and empowers rural communities to stem the flow of women migrating for work.
Slavery in Your Pocket: The Congo Connection
Free the Slaves investigates slavery in Congo's mines. "Conflict minerals" from the DRC find their way into products we use every day—like laptops, cell phones, and batteries.
Turning the Tide: Fighting Slavery in Nepal
From sex slavery in Kathmandu to the trafficking of children to circuses to the use of kids in quarries, Free the Slaves is helping Nepalis overcome a wide range of abuse.
Free the Slaves front-line activists explain their strategy for helping vulnerable and marginalized people overcome the forces that allow slavery to flourish today.
Dreams Die Hard: Slavery in the USA
One immigrant dreamed of earning money for her parents. Others dreamed of a good education; another dreamed of buying medicine for his son. None dreamed of becoming slaves in the U.S.
See how an entire village takes enormous risks to break free in India. By sending kids to school, acquiring new skills, and learning their rights, slaves discover freedom is possible.
Slavery: A Global Investigation
In this Peabody Award-winning documentary, inspired by the work of Free the Slaves, personal stories are woven together to tell the larger story of slavery in the global economy.
Tina Frundt: Fighting Sex Slavery in Washington, D.C.
One immigrant dreamed of earning money for her parents. Others dreamed of a good education; another dreamed of buying medicine for his son. None dreamed of becoming slaves in the U.S.
Sex Slavery Survivor Timea Nagy Fights Trafficking in Canada
She knows firsthand the toll that sex slavery can take. Now she's a leader of Canada's anti-trafficking movement. Timea recounts her harrowing journey and triumph over slavery.
Roger Plant: Fighting Slavery in the Halls of Power
As head of a U.N. task force, Roger set out to count the number of slaves in the world today and the profits they generate. His estimates helped forge a worldwide governmental response.
Amihan Abueva: Fighting Child Sexual Exploitation in the Philippines
Amihan has more than 20 years experience making survivors smile, helping communities become vigilant, and demanding action from governments.
Veero: Slavery Survivor Helps Others Walk Free in Pakistan
Veero took a terrifying risk. Alone and on foot, she quietly slipped past armed guards at the farm where she was enslaved. Now she's helping hundreds of others walk to freedom, too.
Ruth Vilela: The Woman Who Made Brazil a Global Anti-Slavery Leader
Elite units swoop in to free slaves and publicly shame slave holders on a national "dirty list." Major companies are cleansing slavery-tainted supply chains. Ruth made it happen.
Josefa Condori Quispe: Slavery Survivor Helps Others Escape in Peru
Josefa left her village in Peru at age 9 to work as a maid in Lima. It was not the dream job she envisioned. Now she runs a shelter for young girls who've also escaped domestic servitude.
Friends of Orphans: Healing the Wounds of War in Uganda
Anywar Ricky Richard was forced into child soldier slavery. Now he is a lifeline, reintegrating child soldiers into a society torn apart by atrocities the children were forced to commit.
JEEVIKA: Helping India's Farming Slaves Take a Stand for Freedom
JEEVIKA is a courageous organization working in villages where the Dalits or the "untouchable" caste has endured centuries of slavery. JEEVIKA helps slaves realize freedom is possible.
Sina Vann: Survivor Confronts Sex Slavery in Cambodia Brothels
What she endured is horrific. The memories are a hurt that cannot heal, locked in a secret chamber of her heart. That she's turned her pain into a passion to help others is a miracle.
Anne Keehn: FTS Blog Founder Uses the Internet to "Spread the Word"
When she first saw slavery, Anne discovered it's a hidden crime that thrives when people are unaware. So she started our blog. "I couldn't not do something about it," she says.