Armed conflict and a weak government allow slavery to flourish in eastern Congo. Forced labor and sex slavery are widespread in mining regions—as is forced marriage. Our teams work within communities to uncover the extent of slavery and to find ways to end it.
Slavery in DR Congo
Slavery in 'Conflict Minerals'
The Democratic Republic of the Congo (DRC or Congo) is rich in resources that make modern life possible—minerals used by industrialized nations in manufacturing, jewelry, and many other industries. Gold and the "Three Ts" (tin, tungsten, tantalum) are used in everything from cars to medical devices, household goods to high-tech electronics.
Mineral resources have the potential to help the DRC's economy expand and diversify. But instead, much of the profit benefits groups engaged in armed conflict. Ore mined by slaves is smuggled into global supply chains for metals, tainting products we use every day.
Slave labor fuels the fighting and prevents residents from building better lives…
Militias round up villagers at gunpoint and force them to work.
False criminal charges are levied against people who are then sentenced in corrupt or phony trials to toil at mines.
People are enslaved to pay off household or business debts. Money, food, or tools are advanced to laborers, but phony accounting and abusive interest rates prevent them from repaying the debt. Miners are forced to keep digging.
Sex slavery is rampant. Militias abduct women and girls from villages. Others are lured to mining zones by false promises of financial support.
Slavery in Marriage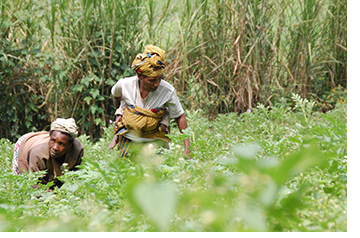 There are few things more fundamental in life than marriage. It is the foundation of family. But for many Congolese women and girls, marriage can be slavery.
The military conflict has created a climate in which armed combatants flout the law with impunity, routinely forcing women and girls into marriage against their will.
Forced marriages often begin by abduction and rape. Or they can be arranged by impoverished fathers to repay debts. Brides forced into marriage are completely trapped. They cannot pursue their own goals, live independently, or escape.
Girls are especially vulnerable because they are essentially powerless, being both children and female in a patriarchal society. Child marriages result in high-risk pregnancies with greater rates of both maternal and infant illness and death.
Our Solutions in DR Congo
Slavery must end for a truly lasting peace.
We've worked with local groups to support education and access to schooling, good governance, citizen advocacy and government accountability, gender equality and and end to gender-based violence, law enforcement, workers' rights associations, increased transparency by companies that use Congo minerals, micro-credit, and the development of viable alternative livelihoods to mining—such as farming and animal husbandry.
Free the Slaves DRC projects (2009-2018) were based on five pillars.
Strengthening Community Resistance to Slavery. The establishment of village committees and clubs in schools is fostering community mobilization and advocacy to eliminate slavery and demand accountability from government officials. The launch of savings and loan associations is creating access to micro-credit so that vulnerable villagers can weather financial emergencies without falling into debt bondage slavery.
Building General Public Awareness. Guided community discussions with illustrated booklets, a community radio series, and a mobile cinema feature film that dramatizes ways to resist slavery are helping the Congolese visualize that freedom from slavery is possible.
Building the Capacity of Congolese Civil Society. A variety of community mobilizing, advocacy, media relations, and monitoring and evaluation skills are being strengthened at Free the Slaves front-line partner organizations and coalitions.
Improving the Knowledge, Attitudes, and Practice of Key Government Officials. Elected officials, prosecutors, judges, customary chiefs, and administrative authorities are being educated about slavery and trafficking laws—and their duty to enforce them.
Adoption of Anti-slavery Practices by International NGOs. Training on how to recognize slavery and take action is being provided to a wide range organizations working in eastern Congo.
Read the independent evaluation of our Congo program's impact, which concludes that "the project has succeeded in its goal to increase community-led resistance to slavery." (One-page summary here.) See our 2018 DRC social mapping report (in French) here.
Our Partners in DR Congo
In the DR Congo, our partners have included:
Collectif Alpha Ujuvi:  Collective Alpha Ujuvi has brought literacy skills to thousands of Congolese, allowing community members to become agents of conflict resolution and development. To encourage individual and collective empowerment and make significant change, Collective Alpha Ujuvi offers alternatives that stimulate grassroots development.
Association pour le Développement des initiatives Paysannes (Association for the Development of Peasant Initiatives), or ASSODIP
Centre de Recherche sur l'Environnement, la Démocratie, et les Droits de l'Homme (Center for Research on the Environment, Democracy and Human Rights), or CREDDHO
Justice Pour Tous (Justice For All), or JPT
Coalition of Civil Society for the Abolition of Slavery, or COSCAE
Congo's Mining Slaves
This Free the Slaves field investigation documents the types, nature, and scale of slavery at major mining sites in the South Kivu province. It also analyzes the factors that make Congolese workers vulnerable to enslavement and recommends solutions. 
The Congo Report: Slavery in Conflict Minerals
This investigation is based on testimony from miners, Congolese civil society representatives, officials of the U.N. peacekeeping mission and international human rights organizations. It paints a grim picture. There are widespread reports of collusion between rebel groups and the national army to illegally exploit, tax, and trade minerals, money and arms. Several forms of modern-day slavery have been documented in mining communities. 
Wives in Slavery
Every person has the right to freely choose his or her spouse. But for many women and girls in the Democratic Republic of the Congo, marriage is coerced and a form of slavery. This exposè examines the causes and impacts of forced marriage in the Congo through the stories of women and girls who have experienced it firsthand. 
The Democratic Republic of Congo (DRC) has been persistently plagued by numerous socio-economic challenges. Forced labor, modern slavery, and human trafficking are all prominent in the country. Recently, the DRC has taken steps forward, signaling its intent to address...
read more