They are slavery's littlest victims: children on fishing boats and at gold mines. Free the Slaves works to foster a climate where child rights are respected and enforced—and kids are protected from harm.
Slavery in Ghana
Faces of Freedom in Ghana
Many children trafficked to fishing slavery are never seen again. But these success stories demonstrate how our Growing Up Free program is changing attitudes and saving lives.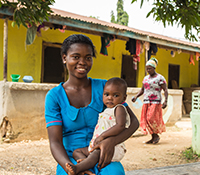 Dodzi Kwablavi | Orphaned Child Slavery Survivor Now Protects Her Own Child: Orphaned as a baby, Dodzi was adopted by an impoverished local woman who trafficked her into fishing slavery on Lake Volta. She spent years as a labor and sexual slave. Today she is learning new skills to support her daughter in freedom. Read her story here.
Richard Mensa | Child Slave Deprived of Education Dreams of Being a Teacher: Poverty and ignorance forced Richard's grandmother to traffic him into slavery. He spent seven years as a child slave on Lake Volta. At her funeral he saw a chance to be free—and was courageous enough to take it. Read his story here.
Nartey Dickson | Community Education Brings Family Back to Freedom: Disability forced Nartey's mother to traffic him into slavery. He lost all hope as a child slave in a fishing village on Lake Volta. Community education efforts brought his family back to freedom. His mother is learning sustainable skills—and he is back in school. Read his story here.
Francis Alehey | His Father Aided Traffickers – His Mother Finally Saved Him: Francis' father was a slavery collaborator who took money to enslave vulnerable children. He sold many—even his own son. Trapped on Lake Volta, Francis was beaten and abused. His mother saved him by taking a stand. Read his story here.
Setsofia Dowokpor | Illness Forced His Mother to Sell Him into Slavery: His bedridden mother sold him to traffickers in a desperate bid for money. Setsofia was trapped in slavery for five years. His sick mother died. But community outreach efforts won him his freedom. Read his story here.
Emmanuel Arthur | Once Left for Dead, Today Dreams of Future: Emmanuel was robbed of freedom and an education before he could ever enroll in school. He nearly drowned in Lake Volta. But he survived the horrors of slavery—now he dreams of a bright future. Emmanuel was a slave before he could be a student. Read his story here.
Child Slavery in Fishing
Along Lake Volta, Ghanaian children are sold into a life of forced labor, malnutrition, and abuse. Traffickers prey on poor families, who are persuaded to send their children to work in deplorable conditions on rickety fishing boats.
Parents are told their children will attend school in exchange for a few hours of work. In reality, children work 14-hour shifts with one meal a day. There is no education, no reprieve, and no escape. Their dangerous duties include casting nets, diving, and hauling. Children often get tangled underwater in nets, and their families never hear from them again.
Read our 2018 baseline research report on the prevalence of child trafficking in Ghana communities where we work: Full Report | Summary.
Child Slavery at Mines
Gold mining is one of Ghana's major industries, and the hope of finding work brings thousands to mining towns. Most turn to unlicensed and informal galamsey mining—small scale operations, carried out with the most basic tools.
Galamsey sites are extremely dangerous for children due to frequent mine collapses, poisonous dust inhalation, and exposure to toxic chemicals used to extract gold from ore. Boys put their health and even survival at risk. For girls, sex slavery in mining regions is a regular and disturbing threat.
Our Solutions in Ghana
Growing Up Free: Rescue, Rehabilitation, and Reintegration of Fishing Slaves
Free the Slaves has launched the Growing Up Free initiative as part of an innovative agreement between the U.S. and Ghana governments. The program is creating a comprehensive, integrated plan for prevention, rescue, prosecution, rehabilitation, reintegration and education to overcome child fishing slavery.
The project has four key goals:
Building Capacity: build Ghana's capacity to respond to child trafficking by training and providing technical assistance to civil society organizations, government agencies and individuals that protect children at each stage of abuse or vulnerability in communities.
Educating & Mobilizing: educate and mobilize communities to identify children who have been trafficked, refer them for rescue, train nonprofits and the Ghana Police Service to support rescues.
Meeting Basic Needs: assure that families can provide for the basic needs of their children, including shelter, food, healthcare and education; develop training opportunities for small-scale farming, livestock rearing and other vocations; develop access to community-based savings and loan cooperatives.
Changing Attitudes & Practices: increase public awareness and knowledge to prevent child trafficking from occurring and promote appropriate community action when child trafficking is suspected; establish child rights clubs for children at local schools; train local elected representatives.
Download the Growing Up Free one-page background handout here.
Child Rights in Mining
Free the Slaves has built awareness about child rights in source communities that send children to work at mines.
Many parents lack detailed knowledge about their roles and responsibilities in promoting child welfare, and there is a general lack of awareness about government resources to address child abuse.
The Child Rights in Mining Project developed illustrated booklets around the themes of parenting, child labor, and sexual abuse in informal mining communities. These themes were drawn from real narratives uncovered during preliminary research. The booklets were used in weekly or bi-weekly learning groups led by trained facilitators. Participants discussed the illustrated stories and how to protect children in their communities. They developed community-wide action plans to end slavery and meet their most pressing development needs.
Policy Advocacy
Free the Slaves is working to create acknowledgement of slavery in the informal gold mining sector by government officials, private companies, U.N. agencies and international nonprofits. This can lead to the adoption and enforcement of appropriate regulations and commitments to fulfilling their roles in protecting children and communities. The Ghana government and UNICEF view Free the Slaves as a resource on trafficking and child protection, and they regularly consult with us on developing strategies to address these issues.
Our Partners in Ghana
In Ghana, our current and previous partners have included:
MIHOSO International: MIHOSO International is committed to providing public health education, provision of consultancy services for hygiene and sanitation promotion, consultancy services for sustainable rural water and sanitation, social and organizational development intervention to communities through evidence based research, advocacy, training, sharing of resources, and the provision of livelihood empowerment programs to target women, youth, and children.
Challenging Heights: Challenging Heights aims to reduce and prevent child trafficking and protect children's rights by directly rescuing children and offering holistic rehabilitation and reintegration; by working with communities to help survivors and the vulnerable live in freedom; by building resistance to trafficking through education and sensitization; by providing educational support for at-risk children, survivors and the impoverished; and by advocating for human rights.
International Needs Ghana: INGH was established in 1984 with the aim of improving deprived communities through development and human rights initiatives.
Don Bosco Child Protection Center: The center was established in 2014 with the mission of providing security, good health, and education to at-risk children and victims of poverty.
Partners in Community Development Programme (PACODEP): Established in 2003 in Kete-Krachi, Ghana, PACODEP rescues children; provides them with formal education, medical screening, counseling, and shelter; and traces their families. It works to realize a Ghanaian society in which all children have their rights protected and their well-being guaranteed. 
Growing Up Free
Successes of the Child Protection Compact to Fight Child Fishing Trafficking
Trafficking's Footprint - Ghana
Child trafficking is widespread in Ghana – for fishing, mining, farming, domestic servitude and prostitution. Researchers uncover the prevalence and drivers of child trafficking in this report, and identify promising interventions designed to liberate victims, support survivors, and prevent future enslavement. 
Ghana Child Rights in Mining
Gold mining is one of Ghana's major industries—gold exports are one of the country's biggest sources of income. But at many mining sites, children are exploited as workers. The Child Rights in Mining pilot project addressed the lack of awareness and protection of child rights, which cause hazardous child labor practices and sexual violence against children. Using illustrated drawings based on the lives of local residents, the project educated parents on the rights of children and how to protect them. 
Twenty victims of human trafficking finally got to taste freedom in the remote regions of Ghana. Free the Slaves, and our partners in Ghana removed them from modern slavery in the districts of Pru East, Sene East, Krachi West, and East Gonja, located in the country's...
read more