A new special FTS series profiles children who have survived slavery on Ghana's Lake Volta. They were forced to work day and night on dangerous, deadly fishing boats. They were abused, held under threat of violence, unable to walk away. Many children enslaved on the lake are never seen again. These inspiring survivors highlight how our community-based model for freedom really works.
Photographer Emily Teague volunteered to help FTS by traveling to Ghana to photograph child slavery on Lake Volta, and by documenting the remarkable stories of children who have escaped or been rescued thanks to our "Growing Up Free" program. The stories and photos are astounding. Today we're sharing three remarkable tales of resilience. We'll post three more next week.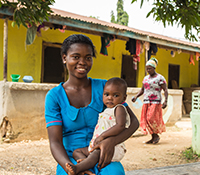 Dodzi's Story: Orphaned as a baby, Dodzi was taken in by a villager. At only 8 years old, she was turned over to a trafficker by her own guardian to ease the burden of poverty. Dodzi spent years as a labor slave and was forced into a relationship that resulted in the birth of a child.
Today Dodzi is learning new skills to support her daughter in freedom. She says, "My hope for the future is that I will become economically independent to take care of my daughter." See her full story here.
Richard's Story: Poverty and ignorance led Richard's grandmother to traffic him. He was allowed to attend her funeral but knew his slave holder would order him back. He bravely resisted, asking his aunt to report his trafficker to a local FTS partner.
Today Richard dreams of becoming a teacher. He says, "[I] hope other children who have been trafficked could get this same opportunity given to me."See his full story here.
Nartey's Story: Disability forced Nartey's mother to traffic him. His family didn't know freedom is a basic human right. As a child slave, he lost all hope. But after local education efforts, Nartey's mother realized slavery is illegal and campaigned for her son's release.
Today she is learning sustainable skills, and Nartey is back in school. See his full story here.
You Support "Growing Up Free"
Dodzi, Richard and Nartey were freed as part of our Ghana initiative "Growing Up Free," which focuses on the formation and implementation of a comprehensive, integrated plan for prevention, rescue, prosecution, rehabilitation, reintegration, education, wrap-around social services, the development of market-based livelihoods for vulnerable families, and the formation of communities united in the determination to drive slavery from their midst. Learn more, and see video of an actual child rescue, on our Ghana webpage.
The success of "Growing Up Free" proves that when community members are given a chance to come together and resist traffickers, they do. As an FTS donor, you are part of the community that comes together to support them. Thank you.