Today marks the 13th annual World Day Against Child Labor, and this year's theme is education. That's because educating children is one of the most effective ways to prevent them from becoming exploited in hard labor or slavery.
Schooling prepares children for productive lives in freedom, providing them with options as they grow up. Educating impoverished children can transform them from being a burden on their parents to becoming family assets who uplift their families and communities. Education is like a vaccine that helps slavery-proof vulnerable communities.
Making quality education accessible is deeply rooted in the Free the Slaves model for freedom. Here are some of the ways our innovative projects are educating victims and the vulnerable:
India: Transitional Schools
In India, we've noticed that children in slavery often suffer from gaps in their education. There are no schools at brick kilns and stone quarries where children toil in slavery beside their parents. To close the gap, we help child slavery survivors catch up by providing accelerated remedial schooling when they're rescued. Younger children drill on the basics, and older ones receive vocational training. The younger children can then re-enter public schools at an age-appropriate level, and the older ones can eventually re-enter the labor force without risk of enslavement. We've even sent an art teacher to one village to teach kids how to paint.
Haiti: Accelerated Education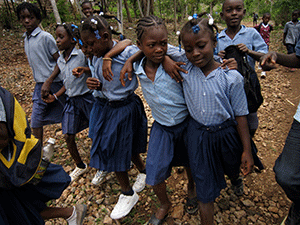 Thousands of Haitian children from impoverished rural villages are sent by parents to live with other families and work for them as domestic servants. The inability to provide for a child's education is one of the most oft-cited reasons that parents send a child away from home. Improving rural schools is part of the Free the Slaves Model Community approach to reducing child domestic servitude. An accelerated education curriculum developed by the Haitian Ministry of Education equips older students with the knowledge and skills necessary to transfer to secondary school.
Brazil: "Slavery, No Way!"  
Our Brazil program is at the forefront of integrated efforts to combat slavery and trafficking. It includes support for the "Slavery, No Way!" educational campaign that raises awareness about how people become trapped in slavery and how they can get out. Classroom activities teach children about the tricks that traffickers use, so that they will be less vulnerable to slavery later in life. The campaign has provided in-depth training and ongoing guidance and support to over 2,200 educators and community group leaders. More than 70,000 copies of free educational publications have been distributed.
Ghana: Child Rights Clubs
Ghanaian children are learning how to stand up for their rights in a unique after-school environment. In child rights clubs at schools in mining communities, kids learn about their rights, the risks and dangers around their communities, and who they can contact if they or their peers ever need help. Teachers select student child rights ambassadors to lead the clubs within their schools and encourage their peers to join for weekly meetings. With 522 members at last count, the clubs are creating a ripple effect by making an impact on the community: increasing children's knowledge of their rights and how can they be protected, influencing generations to come.
Our effort doesn't end there. Today, in honor of World Day Against Child Labor, we welcome everyone to join our fight to end child slavery. No matter big or small, together we can make a difference, bringing children back to classrooms, where they belong.